Throughout this year, George Payne has written about and photographed the progress of the Lower Fall Foundation towards making the Lower Falls Park and Gorge a World Heritage Site.
Recently, George has shown how the proposed site is imprinted with the work and vision of Frederick Douglass and Seth Green, perhaps American's most important fisherman.
Today, George amplifies the claim for the historical significance of the Lower Falls Park in a discussion of Frederic Law Olmsted, whose firm designed Maplewood Park located in the heritage site.
George looks at Maplewood Park, as well as other regional parks designed by Olmsted.
George's montage inspired a visit to Genesee Valley Park. From the trestle of the old railroad bridge once part of the Rochester branch of the Pennsylvania Railroad, you look out at the intersection of the Genesee River and the Erie Canal.
On yet another sparkling early Fall afternoon, I saw the University of Rochester crew team, a pleasure boat pass by and a man tranquilly fishing below. (see other activities in the Olmstead Parks at end)
Design & Democracy: A Photographic Gallery of Regional Works by Frederick Law Olmsted
Many people are familiar with the architectural and landscape design accomplishments of Frederick Law Olmsted (1822-1903). What many people do not know is that Frederick Law Olmsted was a brave journalist, correspondent, and intelligence analyst of sorts for the paper which would become the New York Times.  Decades before civil war broke out, Olmsted traveled to the Southern states, covered that region's lifestyle, assessed the conditions of slaves on the plantations, and provided an honest look at a world most people living north of the Mason Dixie Line had never seen. Olmsted's articles, essays, and other forms of communication were very influential in shaping public opinion against slavery.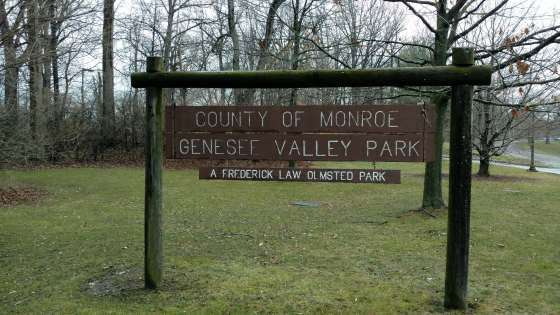 Olmsted's landscape designs reflect his deepest beliefs about the equality of all people. His works are testimonies to his belief that we all have an inherent right to gather in public spaces as free citizens. This was central to his artistic philosophy. Olmsted built parks which not only invited people to congregate, conversate, and communion with one another, he also designed spaces which would foster the feeling of democracy in the minds and bodies of visitors.
More than an architect, Olmsted was a visionary. He saw not only where America had come from, but where it was heading and why it needed to go there. He was not just a lover of plants and trees for their own sake. No mere preservationist, Olmsted was an artist who re-imagined the symbolic meaning of plants and trees, and he then turned them into emblems of civic virtue-namely, beauty, cooperation, growth, harmony, utility, regeneration, and hope. Olmsted lived by these virtues, and every single one of his parks embodies them in a way that continues to inspire people all over the world. Olmsted once said, "The possession of arbitrary power has always, the world over, tended irresistibly to destroy humane sensibility, magnanimity, and truth."
The power of his parks was always equal to the power of the people's spirit. When people not only love and respect their own natural gifts, but love and respect the gifts of others because they are also part of nature, that is when we are truly ourselves. That is when we are truly American.
All Photographs by George Payne

Along with Highland and Seneca Parks, Genesee Valley Park was designed by Olmsted. Here, he showcased the naturally occurring, rolling pastoral fields of the area when he planned the 800+ acre park. A favorite spot for golfers, crew teams, kayakers, and cross-country skiers, Genesee Valley Park is one of the oldest parks in the area.
As the father of our nation's first municipal park, state park, and national park, Olmsted had his fingerprints all over the cultural and spiritual landscape of the American dream. The dream was that every human being would learn the simple joys of walking through a meadow, the boundless pleasures of contemplating ripples on the surface of a pond, listening to the melodies of finches and larches, and meeting an old friend or an interesting stranger under the canopy of hemlock leaves.
Highland Park is actually a completely planned—and planted—arboretum or "tree garden." In addition to over 1200 lilac shrubs, the park boasts a Japanese Maple collection, 35 varieties of sweet-smelling magnolias, a barberry collection, a rock garden with dwarf evergreens, 700 varieties of rhododendron, azaleas, mountain laurel and andromeda, horse chestnuts, spring bulbs and wildflowers and a large number of trees. The park's pansy bed features 10,000 plants, designed into an oval floral "carpet" with a new pattern each year.

Olmsted designed this unique 297 acre park with the picturesque Genesee River in mind. Seneca Park provides three picnic shelters, the newly renovated Wegman Lodge, playgrounds, scenic views of the Genesee River gorge, hiking trails, open fields and large pond with a paved walking path. Parks Seneca Park Page | Monroe County, NY
The Maplewood neighborhood is unique among all city neighborhoods in combining the architectural grandeur of intact avenues, urban landscapes designed by the internationally acclaimed firm of Frederick Law Olmsted, Sr. and Company, and the natural beauty of the Lower Falls of the Genesee. 3 elements, our building environment, our landscaped environment, and our natural environment combined give Maplewood its enduring charm. About Maplewood

America's Oldest State Park | Niagara Falls State Park
The leader of the Free Niagara movement was America's first landscape architect, Frederick Law Olmsted. Olmsted believed that parks should be places of natural beauty, where "the masses could be renewed." This philosophy was applied throughout Olmstead's landscape design for Niagara Falls State Park, with an entire network of footpaths through wooded areas and along the banks of the Niagara River. Today, the oldest American state park retains Olmsted's vision by staying committed to maintaining native vegetation, preserving its unparalleled vistas and providing public access.
ON VARIOUS ACTIVITIES IN THE OLMSTED PARKS
Highland Park

Genesee Valley Park
Maplewood Park
Celebrating the roses of Maplewood. But like Sam Patch, Talker is Gorged