In Burned Over: on the search for some of Rochester's most sacred Christian sites, George Payne looked at churches across Rochester.
In Five Versions of Frank Lloyd Wright's Boynton House, George looked at Frank Lloyd Wright's modernist creation on East Boulevard.
Today, George combines the themes of modernism and the sacred in a study of the First Unitarian Church on South Winton Road.
Seeker of Light: Re-Viewing Louis Kahn's First Unitarian Church
All photography by George Cassidy Payne
According to ArchDaily, Louis Kahn (February 20th 1901 – March 17th 1974) was one of the United States' greatest 20th century architects, known for combining Modernism with the weight and dignity of ancient monuments. Though he did not arrive at his distinctive style until his early 50s, and despite his death at the age of just 73, in a span of just two decades Kahn came to be considered by many as part of the pantheon of modernist architects which included Le Corbusier and Mies van der Rohe. (Archdaily.com/tag/louis-kahn)

 Designed by Louis Kahn, First Unitarian Church is regularly visited and studied by architects, students, and tourists from around the world. In 2014, the church was added to the list of U.S. National Register of Historic Places.  (Rochesterunitarian.org/landmark-site/)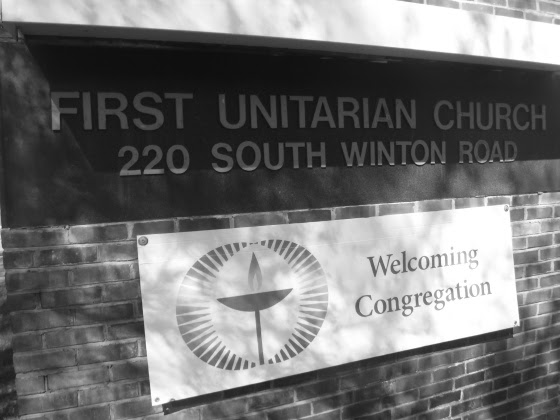 The extensive garden areas that surround the First Unitarian Church were developed over the past thirty years largely through the efforts of the late Madlyn Evans.
Every building must have… its own soul.
Louis Kahn

Architecture is the thoughtful making of spaces. It is the creating of spaces that evoke a feeling of appropriate use. – Louis Kahn

You say to a brick, 'What do you want, brick?' And brick says to you, "I like an arch." And you say to brick, "Look, I want one, too, but arches are expensive and I can use a concrete lintel.'"And then you say: "What do you think of that, brick?" Brick says: "I like an arch."
Louis Kahn

Design is not making beauty, beauty emerges from selection, affinities, integration, love. Louis Kahn

Architecture is the thoughtful making of space. Louis Kahn

Sculpture piece in the front entrance

SEE ALSO

Burned Over: on the search for some of Rochester's most sacred Christian sites

https://talkerofthetown.com/2016/09/13/five-versions-of-frank-lloyd-wrights-boynton-house/